From the moment the 2013 NFL Scouting Combine came to a close, Miami Dolphins G.M Jeff Ireland raised up his left sleeve to check his watch only to realize that his time could very well be running out. With the Miami Dolphins having their 4th consecutive losing seasons and only 1 playoff appearance in the last 11 years, very few executives in the NFL can be feeling as much pressure as Mr.Ireland.

The entire Dolphins organization and fan base understands the importance of this draft and it was evident at this year's scouting combine when all 56 members of the dolphins scouting team (including Ireland) showed up to get a look at this year's prospects.

The Dolphins currently have 9 picks overall and 5 in the first 82. This draft is most likely the difference between the playoffs or another 5 year rebuilding process. Miami enters the 2013 draft with many team needs mostly at Tackle, Corner, Wide Receiver, Free Safety, OLB/DE, and Tight End. It might be too early to call, but many analysts and draft experts believe that this year's draft might not have a lot of star power, but it should be loaded with depth, especially at the offensive and defensive line positions.

In a depth heavy draft, Ireland must hit on most of his picks or he might not be able to see the sunny side of South Florida again.
Before we get into our first ever post-combine mock draft, let's make a few assumptions that could happen before draft day:
- Miami lands a top free-agent receiver either Mike Wallace or Greg Jennings.
- Miami lets Sean Smith walk.
- Jake Long and Reggie Bush sign elsewhere.
Now with that being said let me present to you my first Miami Dolphins Mock Draft.
Xavier Rhodes

-

CB

-

Florida State
6'1", 210 Ibs, 4.43 40 yard dash, 14 bench reps, 40.5 inch vert jump, 132 inch broad jump
By a show of hands, who believes that the Miami Dolphins will start the season off with Richard Marshall and Nolan Carroll starting at cornerback?
(I really hope none of you even have one pinky up)
With former Dolphins Cornerback Vontae Davis announcing to the Twitter world that interest between Kansas City and his buddy Sean Smith is mutual, (Don't try to take it back now Vontae) Miami's need for a corner increases dramatically. Rhodes has been a pretty common pick among most draft boards, but it isn't hard to understand why. The Florida State corner has the ideal size, skill set, and tackling ability to fit in any defensive scheme. He's got the size at 6'1" and ran an impressive 4.43 in the 40 yard dash which only helped his draft stock. He may not be as fast as Dee Milliner, but is a much more consistent tackler and isn't afraid to lay down the boom or "hit stick" as we like to call it in Madden. He takes very good angles to the ball while in coverage and can also use his frame effectively to jam receivers at the line of scrimage. I believe Rhodes will dramatically help out Miami's 27th ranked pass defense.
Tyler Eifert - TE -

Notre Dame
(6'6", 251 lbs, 4.68 40 yard dash, 22 bench reps, 35.5 vert inch, 119 inch broad jump)
In the NFL's pass happy league, the tight end position has evolved into one of the most Go-To positions in many offensive systems. As teams try to replicate the same success that the Patriots, Saints, and Falcons offenses are having, all 3 share one thing in common, an explosive tight end. Mainly, one that can exploit mismatches and open up the middle of the field making a Quarterbacks job that much easier.

Notre Dame's Zach Eifert is certainly the most complete tight end in this draft.

His blocking has improved, and he has the frame to excel in this facet of his game, but his strength is his ability to catch the football. Vikings Tight End/ and Pro-Bowl MVP Kyle Rudolph also came from Notre Dame s and both are drawing similar comparisons. Eifert has great hands and great body control and he is not afraid to make the dangerous catch in traffic. Last year Eifert caught 50 passes for 685 yards and 4 touchdowns and was named the Mackey Award winner. Assuming Anthony Fasano gets resigned in the next couple of weeks , a three-headed monster in

Eifert, Fasano, and Charles Clay certainly can't hurt Ryan Tannehill.
Trevardo Williams - Defensive End - UCONN
(6'1", 241Ibs, 4.57 40 yard dash, 30 bench reps, 38 inch vert jump, 124 inch broad jump)
One of the things that I was very happy about last off-season was the resigning of one of league's best pass rushers, Cameron Wake. While Wake at times can be a one man wrecking crew, he needs some help on the other side of the defensive line. Williams is one of the most athletically gifted players at his position and has the numbers to prove it. The UCONN product managed to tally 11.5 sacks during his senior season. This comes one year after tearing up opposing offensive lines for 12.5 sacks. At the NFL combine Williams displayed those physical gifts. His

4.57 40 was the fastest time for defensive lineman at the combine (Yes, even faster than Ziggy and Dion Jordan). He also posted a 38-inch vertical and tallied a 124-inch broad jump. Not to mention, he came in fifth among defensive linemen with 30 reps during the bench press. A great combine for Williams should increase his draft stock and If I were the Dolphins, I wouldn't wait more than 5 seconds to send the card up with his name on it.
Quinton Patton - WR -
Louisiana Tech
(6'0", 204 Ibs, 4.53 40 yard dash, 8 bench reps, 33 inch vert jump, 118 inch broad jump)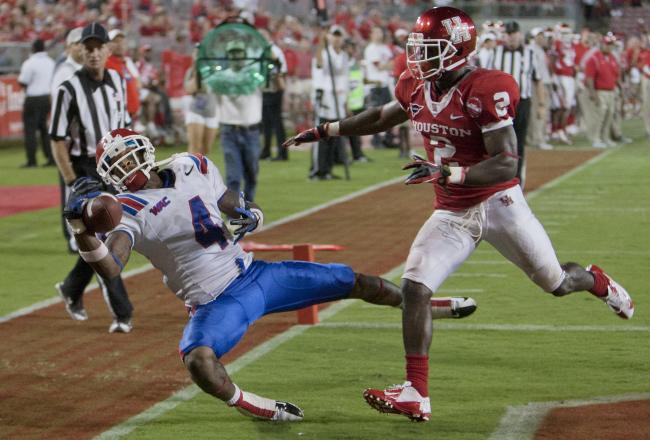 With its next second-round selection and Mike Wallace on board (crosses fingers), Miami can start adding playmakers that will help make life easier for Mr. Tannehill. Louisiana Tech's Quinton Patton is one of this draft class's best kept secrets. In 2012, he caught 21 passes for 233 yards and four touchdowns against Texas A&M and torched Illinois' highly touted cornerback Terry Hawthorne for 164 yards and two touchdowns. Though he lacks a breakaway gear, he possesses reliable hands and a quick burst off the line. Many scouts have said that during Senior Bowl week, he was one of the most consistent performers and made one of the more memorable catches in the Senior Bowl while having a defender draped on his hip. Adding Patton should improve the Dolphins abysmal 3 total touchdowns scored by wide receivers last season.
Montee Ball - RB - Wisconsin
(5'10", 214Ibs, 4.66 40 yard dash, 15 bench reps, 32 inch vert jump, 118 inch broad jump)
So how do you feel about going into the 2013 season with Lamar Miller and Daniel Thomas as your 1,2 punch at RB ?

Hopefully a little more stoked than I am.
I swear it seems like every time I would watch Game Day, I can almost guarantee that one of the highlights was going to be Montee Ball breaking tackles and plowing his way into the end zone. "Mr. Touchdown" Montee Ball was the star of the Wisconsin Badgers offense for two consecutive seasons. The Dolphins rb's struggled mightily in run blocking, and punching it in for 6. Luckily, Ball is a do it all type of runner and his physical frame should help neutralize pass rushers. Last season was historic for Ball. In 2012, Ball

broke Barry Sanders record for most career touchdowns with 82 (most in NCAA history) and the record most rushing touchdowns with 77. What's most impressive is that Ball was an every-down back who averaged 25.4 carries per game in 2012 and still posted a 5.1 yards per carry average. While Ball did have an off-the-field issue a couple months ago, he is still one the best backs in this Draft. Ball is projected to go in the 3rd or 4th round and although the need for a running-back is diminishing, he might be too good for the Dolphins to pass up.
David Quessenberry

-

OT

-

San Jose State
(6'5", 302Ibs, 5.08 40 yard dash, 25 bench reps, 29.5 inch vert jump, 112 inch broad jump) It's no secret that the Dolphins are going to look here, there, and everywhere to replace the right side of the offensive line after Jonathan Martin is expected to take over for Jake Long. The San Jose St product Quessenberry has a lot of attributes that make a good lineman in the NFL. He has the height at 6'5. He's a quick processor and feels comfortable playing either the tackle or guard position. He knows how to use his length to drive pass rushers out of the pocket, and, more importantly than maybe anything else, he possesses an extremely wide base and he has a naturally wide frame.. Quessenberry is a very good run blocker. His lower body strength is phenomenal for his size, and has a solid core. He plays with terrific on field intensity and does a great job of using his legs to drive defenders off the ball. He is one of the most underrated prospects of this draft. His excellent technique, combined with solid athleticism and good strength make him a player to keep an eye on. The only knock on Quessenbery is that he doesn't possess enough bulk at 302lbs but if he adds at least 10 to 15 pounds of muscle it should make him more of an effective player.
Round 5
Sharmako Thomas - DB - Syracuse
(5'9", 213Ibs, 4.42 40 yard dash, 28 bench reps, 40.5 inch vert jump, 133 inch broad jump)
The track star and all state defensive back from Virginia Beach stepped into a starting role in seven games as a true freshman, moving from linebacker to safety to cornerback depending on the matchup. While he lacks the height at 5'9 he showed many of his intangibles at the combine. His 4.42 40 yard Dash was the fastest time for a Defensive Back at this years combine. His 28 bench reps are extremely impressive for his size and I see many similarities between him and former Pro-Bowler Bob Sanders. Thomas started in all 13 games as a senior, and led the Orange in tackles, with 85. He also intercepted two passes, and forced three fumbles. His outstanding play in 2012 earned him a Coaches All-Big East first-team selection. His versatility would fit well in the Kevin Coyle's 4-3 scheme.

The Dolphins may select a safety in the earlier rounds if they lose Chris Clemons in Free Agency, but if he is retained, l could see a position battle for the Free Safety Spot on the horizon.
Round 7
Brandon McGee - CB - Miami
(5'11", 193Ibs, 4.40 40 yard dash, 14 bench reps, 33.5 vert jump, 119 inch broad jump)
Did anyone happen to watch the Thursday night game when the Miami Dolphins travelled to buffalo and Nolan Carroll stepped into a starting role? Well let me just tell you that it wasn't pretty. While everyone is entitled to a bad game, Carroll made his mark that night by having not 1, not 2, not 3, but a total of 4 Pass Interference penalties. Carroll is expected to challenge Richard Marshall for the nickel corner spot, but something tells me that battle is going to end up with a double edged sword. When you're in the same division as Tom Brady and will go against 4 of the top 10 Quarterbacks next year, and must have at least 4 reliable corners. I expect Miami to select 2 corners on draft day and U.M's Brandon McGee is a very intriguing prospect. He's got blazing speed that will allow him to keep up with the burners of the NFL.

His recovery speed is also top-notch, and he uses his hands well to attack receivers and blockers. However, his draft stock is held back by an inconsistent senior season and adequate size. With proper coaching, McGee has the makings of a solid third or fourth corner that could eventually grow into a starter for Miami.
(6'6", 329Ibs, 40 yard dash 5.27,

22 bench reps, 22.5 vert jump, 98 inch broad jump)
Bond's size makes him a huge stand out on the football field, even on a North Carolina offensive line that included future NFL players. His nickname Tree Top shows you how his teammates feel about his intimidating size. John Jerry started every game this season, but he and LG Richie Incognito can use a little competition. Bond has played every game in his college career 2009, getting his first start at right guard in the Meineke Car Care Bowl against Pittsburgh.
Summary:
1.
Xavier Rhodes
-
CB
-
Florida State
2.Tyler Eifert - TE -
Notre Dame
2.Trevardo Williams - Defensive End - UCONN
3.Quinton Patton - WR -
Louisiana Tech
3.Montee Ball - RB - Wisconsin
4.David Quessenberry
-
OT
-
San Jose State
5.Sharmako Thomas - DB - Syracuse
7.Brandon McGee - CB - Miami
7.Travis Bond - G - UNC
By: Joel Caro & Ryan Mackey